Every year, hundreds of people die due to electrical accidents called electrocution – a death which is a result of electric shock. Sometimes electrocution occurs while electricity is in use or when construction or electrical work is being carried out either in a new building or already used one, but these tragic accidents happen mostly in homes in which electricity is already in use, that is where electrical wiring system has been set up.
Today, because of the widespread death from electric shook many people have considered adhering to the use of GFCI receptacle were necessary for their building which is a requirement of electrical wiring regulations act. A great thanks to the introduction of GFCI technologies, because with it the frequent death around areas close to the water in homes such as the bathroom, kitchen sinks, laundering room, or any other places in the building that is exposed to rain or standing water which electricity needs is now greatly reduced.
What is a GFCI receptacle?
In simple words, GFCI receptacle which stands for Ground Fault Circuit Interruption outlet is an electrical outlet that prevents or safe people from electrical shock when there is a ground fault that is capable of electrocuting — it is uniquely different from a house electrical fuse or circuit breaker. The design and technology behind a fuse is to protect a structure from an electrical fire due to electrical fault.
For example, if the hot wire were to accidentally get in contact with the neutral wire for some reason (let say, because a mouse chews through the insulation and expose the conductors, or someone punch a nail through the cable while hanging a picture, or while cleaning using, it absorbs or sucks up an outlet cord and cuts it).
When this happens a high amount of current will flow through the circuit and start heating it up like one of the coils in a toaster. Before the wire become very hot to ignited fire, the fuse heats up faster than the wire and blow out or the circuit breaker trips off and interrupts the power supply.
 Unlike a home's fuse or circuit breaker, the GFCI is installed in the outlet itself. When an appliance is plugged in, such as a hairdryer or washing machine, the GFCI receptacle monitors the amount of electricity going into the appliance and if it is saved. If you mistakenly drop the appliance into a sink full of water, or a fault occurs which could cause the water around that area to shock an individual, the GFCI receptacle detects the abnormality in the flow of current and interruption in the flow of current by tripping off power from supplying out from the outlet, thereby prevent electric shock from occurring.
How to identify a GFCI receptacle
 How to know if you're looking at an outlet equipped with GFCI capabilities? All GFCI receptacle comes with a Test and a Reset button (and perhaps an indicator light) built right into the outlet.
When you view a normal 120 or 220-volt outlet, there are two vertical slots, and below it is also a round hole at the centered. The slot at the right is larger than that of the left. The left slot is called "neutral," terminal the right slot is called "hot" terminal, and the hole below them is called the "ground" terminal. If an appliance is functioning properly, electricity flow into the appliance through the hot terminal to the neutral terminal.
How Does a GFCI receptacle Work?
What a GFCI does, is to monitors the amount of current flowing from hot to neutral. If any other thing occurs different from that, the device trips off. A mismatch which may be small as 4 or 5 milliamps is senses by GFCI outlet, and as fast as one-thirtieth of a second this device can react, this is the key specification of GFCI, because at the current of 10milliamps, a human muscle freeze from electrical shock. Which implies that pulling away from an object causing electrical shock is a bit difficult, as fast as two seconds when electrocuted one can die
A sense of paralyzing caused by electrical shock is not a feeling one wishes to have if you have ever experienced a flow of current through your body and if this happened because you touch your appliances such as washing machine, microwave, toaster, etc. You were part of what is known as a ground fault.
A ground fault is an instance in which the hot wire gets in contact with any area of a grounded device or even the grounded part of a junction box. It can happen in situations when the insulation of a wire is damaged, perhaps to the mischievous teeth of rodents that are in the house or office, or even due to aging,  or, very commonly, due to environmental conditions.
How can a GFCI Outlets be tested?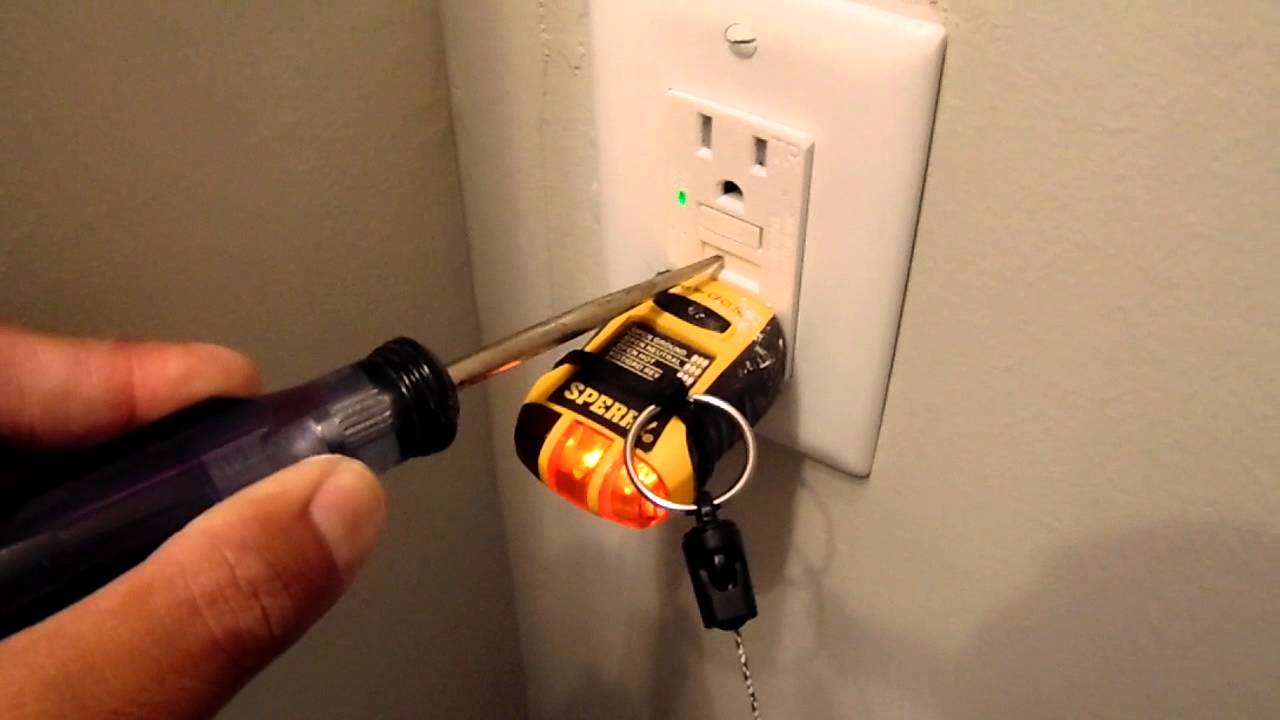 An electrician tests a GCFI outlet after installation
As stated above ground-fault circuit-interrupter (GFCI) outlets are safety devices that help prevent you from experiencing electrical shock when there is a ground fault. They can work very reliable for many years after installation, but it is also so possible for them to lose their main safety function.
A wrong or improper installation of GFCI can equally disable its safety feature of the outlet. This is why all GFCI is equipped with a button for testing their safety function after installation or as the device age. The test can be done for just a few seconds and doesn't require turning off the power from the circuit. If after testing the GFCI fails it is advisable you replace the outlet as soon as you can
READ ALSO: WHAT YOU MUST KNOW ABOUT ELECTRICAL SHORT CIRCUIT
Tips on How to Test a GFCI receptacle
Look at the front of a quality GFCI outlet: between the two sets of slots where you plug in your device cords there are two rectangular buttons, indicated as "TEST" and "RESET." To know if this device is working properly, simply use your finger to press the test button. You should hear a snap sound that trips the outlet and interrupt the power supply to the two plug connections.
To verify that the power is off, plug a device or lamp into each half of the outlet; the device or lamp will not on. Alternatively, you can equally use a voltage tester or voltmeter to check for the presence of voltage; this test also should show that there is no power. Once you've confirmed that the safety functionality of the GFCI is working properly, press the button label as reset to restore power to the outlet.
Testing With a GFCI Tester
A GFCI receptacle tester can also be used to test and confirm if the GFCI receptacle is working fine. This GFCI tester is a simple electrical device that has three LED lights to indicate various test results. The tester can indicate to you whether the outlet is wired correctly and can also identify several wiring problems, including open ground, reversed polarity, an open hot or neutral, and a reversed hot and ground. Indeed it a unique testing device with many functions
The tester comes with a test button that trips the GFCI to check the safety function; this has the same result as pushing the test button on the front of the outlet. A GFCI receptacle tester is not too expensive and can be used to test standard (non-GFCI) outlets as well as GFCIs, it recommended you this in your electrical tool kit, making it a handy for your use, at least before inviting an electrician
How often is it recommended to Perform GFCI Test?
It is recommended by Electrical safety experts and device manufacturers that testing the GFCI receptacle should be done once a month. Though This may seem unnecessarily often, the fact is, this device is an electrical electronics device, so the safety function of the device can fail anytime and without notice, it does not really indicate that there is a problem when its safety function fails. In many cases, a GFCI will continue to supply power to plugged-in devices even if the GFCI safety device has failed. Therefore, it's best to test them very frequently as recommended to increase the chance of identifying a problem before a shock hazard occurs.
How to Test a GFCI Circuit Breakers?
A GFCI circuit breaker can be provided in addition to the GFCI protection outlet. When a GFCI circuit breaker is used, all the entire circuit and wiring are provided with GFCI protection. Unlike a GFCI outlet which could be wired to protect only itself, or it could be wired to protect itself and all other circuits connected from it. It cannot protect the source supply the outlet
It is recommended that GFCI circuit breakers also be tested monthly. The test is similar to testing GFCI outlets. You simply open the door on your home's service panel or distribution board (breaker box) and press the test button on the GFCI breaker. This should trip the breaker, turning off all power to the entire circuit. To restore power by resetting the breaker, flip the breaker Handel off, then turn it on.
READ ALSO: SIMPLE STEPS ON HOW  TO RESET A TRIPPED CIRCUIT BREAKER