What is a solar electric system?
A solar electric system is the system where solar panel which is also known as photovoltaic cell, absorbs photons from the sunlight and converts it to electrical energy specifically direct current. And the direct current energy is then converted into alternative current for home use.
In recent years, the idea of of-grid and smart grid system is more common and consumer are opting out for clean energy like wind and solar power system to rule out or at least minimize the dependency on a regular source of power from the utility company thus reduce the overall running cost as well. An efficient solar electric system well integrated with a warranty will lead to recover the initial cost and free reliable source of electrical energy.
What are the Basic Components of a Solar Electric System?
Below are the basic and general components and devices needed for solar electric system installation. Details of each component and device are given below in each section.
(1) Solar Panel
(2) Charge Controller
(3) Battery
(4) Inverter
(5) Mounting racks
(6) Array disconnect
(7) Power meter and utility meter
(8) circuit breaker
1.Solar Panel
A solar panel is also known as Solar Cell or Photo Voltaic Cell is the major component of a solar power system. There are different types of solar panels such as polycrystalline and monocrystalline etc.
Monocrystalline is more reliable and efficient but a little bit expensive as compared to polycrystalline solar panels. When selecting a solar panel, they are some factors that determine that such as space, warranty, efficiency, technology type, cost, etc. Keep in mind that output derived is the ultimate when selecting a proper solar panel for residential solar power installation.
In general, the solar panel is connected directly to the charge controller though there are different type of connection of solar panel arrays such as series and parallel connection which depends on the total estimated load and specific energy requirement for home appliances, battery bank connection, roof surface space, and climate and peak sunshine hours.
It is easy to find the number of required solar panels and charging current for battery by following the step by step guide for solar panel installation with inverter rating, standby period of batteries according to the load requirement.
2. Charge Controller
A charge controller which is also known as charge regulator is a device that is used to control or regulate the voltage and current from the solar panels which are fed to the batteries. The main purpose of a charge controller is to avoid overcharging of the batteries so as not to damage the battery through solar panels as 12V solar panels provided 17-20V in case there is no load or full sunshine. The reason behind this is that manufacture designed a solar panel for different climate and environment so that, you get the max rated voltage in case of cloud cover, low sunshine, and heavy haze, etc.
There are various types of charge controllers are available in the market such as follow:
Simple – 1 and 2 Stage Charge Controllers: in the construction of this one, Relay and shunt resistors are used to regulate the voltage in single or two stages to disengage the solar panel from the battery in case of overvoltage.
Complex – 3 Stage Charge Controllers: this is a PWM charge controller, which is based on pulse width modulation and cutoff the battery circuit from the connected solar panel from the photo-voltaic cell in case of overcharging.
MPPT (Maximum Power Point Tracking) Controllers: MPPT is a DC to DC converter in case of solar panels array to the battery bank. It optimizes and controls the higher DC voltage levels from the solar panel and converts to the lower optimized and regulated voltage to charge the battery. They are q bit expensive but more efficient. They supply 10-30% more power to the battery with an efficiency of 94-98%.
If you want to know about their prices check here
3. Solar Battery
Solar Batteries are used to store charges. There are different types of batteries used in solar electric system for storage and backup operation at overnight when sunlight to supply the solar panels are not available again. The battery can either be connected in series, parallel or series-parallel connection which all this depends on the system design i.e. 12V, 24V, or 48V system configuration.  For an area where there is much of clouds and no sunshine, the battery bank can be charged through AC supply from the power grid via an inverter for later use.
Related post: criteria to choose the best solar battery for a solar electric energy system
4. Inverter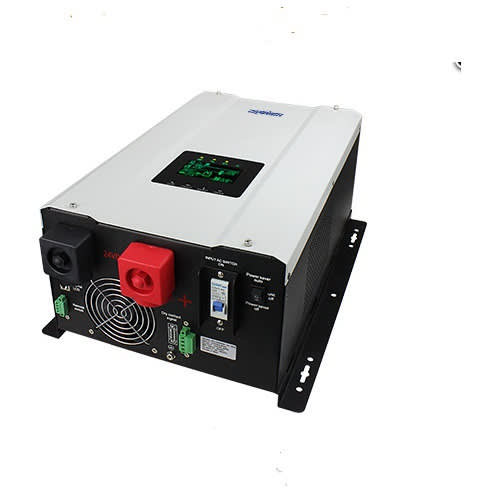 An inverter converts the DC energy from the Solar panels and batteries to AC required at home. The standard voltage used at home for appliances and to power other things is AC voltage. The stored DC power supply in the battery is converted to AC power supply through the inverter which can then be used at home. They are different type of inverter. We shall cover this in our next article.
READ ALSO: Important Facts About DC to AC Inverter
5. Solar Array Mounting Racks
Solar panels are connected into arrays and commonly installed in one of three locations: on roofs; on poles, if it a free-standing array; or directly on the ground.
The most commonly used mounting array is the Roof-mounted systems which are required by the zoning ordinance. This approach is always very efficient and aesthetic. The major disadvantage of roof mounting is maintenance. For roofs that are high, removing snow, cleaning the panel, or repairing the systems can be a big problem. Although Panels do not usually require much maintenance work, however.
Freestanding, pole-mounted arrays can be fixed at a height that makes maintenance very easy. The merit of easy maintenance must be considered against the additional space required for the arrays.
Ground systems are low and the simplest, but cannot be considered in areas with regular accumulations of snow. The available space is also looked into before choosing this mounted array.
Regardless of where you install the arrays, these things can either be fixed or tracking mounted array. Fixed mounts array is fixed for height and angle and does not rotate. Since the angle of the sun is not fixed but keep adjusting throughout the year, the height and angle of fixed mount arrays are a compromise that exchanges optimum angle for a less expensive, less complicated installation.
Unlike fixed array Tracking arrays move with the sun. Tracking array rotates east to west with the sun and changes their angle to maintain the optimum as the sun moves.
6. Array DC Disconnect
This component is used to disconnect the solar array from the charge controller in the house for maintenance, it is called direct current disconnect because it interrupts the generate power from entering the charge controller in the buildings
7. Power Meter or Utility Meter
If you intend to tie to the grid, there is a need for the power meter which measures the amount of power used from the utility grid. While after integrating your solar electric system if you have more power to use and decide to send some to the utility grid, the power meter is also used to measures the amount of energy sent.
8. Circuit breaker
It is used to protect the solar electric system from fire hazards. When there is over current the circuit breaker trips off. And interrupt the flow of electricity to the building.
---
CHECK ALSO; Pros and Cons of Solar Energy